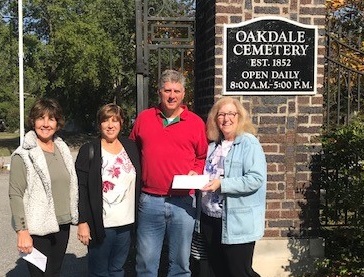 Members of the Wilmington Woman's Club presented a donation of $300.00 to the "Friends of Oakdale Cemetery" organization. The organization will use the donation to replenish dogwoods and other trees in the cemetery. Club members: Fay Hall, Mamie Hutnik, and Tess Rooney. Oakdale Cemetery Superintendent: Eric Kozen.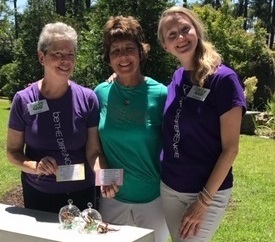 On Tuesday, June 25th, 2019, club member, Fay Hall (center), delivered items to Lorraine Perry and Marty, Hospice Camp instructors of the Hospice Counseling Services, for their summer camp program.

During this program, the children create a glass bulb container in honor of a loved one they have lost. The WWC Conservation Committee provided 12 air plants, hanger glass bulbs, jars of colored pebbles, and directions for campers to care for the containers after they completed their project. A few of the glass bulb containers are displayed on the ledge in the picture.